Chatting all things with Alana Hadid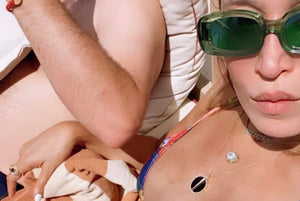 We invite Alana Hadid (@lanzybear) to talk all things swim, travelling, career & more. Alana, a member of the renowned Hadid family has inspired us as of late through her passion to help her community & to advocate body positivity. A comfortable and perfect fitting bikini, as shown by Alana on her latest vacation to Tulum, can be all you need to feel that beach ready confidence. 
If you could travel to any destination in the world right now where would it be?
I have been to Japan a few times and it's one of my favourite places in the world, it's Blossom season, so I wish I could be there, plus my boyfriend has never been so we talk about it weekly.
What is your favourite Abbie & Hüsen Swim?
Currently the bandana set, so cute and fits perfectly.
*Alana wears the ABBIE TOP & PERU BOTTOM in Multi Bandana Print*
If it's a hot summer day in California, what does your day look like?
I'm probably by a pool or on the beach in Malibu with a few friends, my dog and my boyfriend or walking through a farmers market.
If you could name a A&HS set, what would it be?
Lanzy top & Bear bottom. 
*

Alana wears the MANAUS ONE PIECE in Multi Bandana Print*
What is something you have achieved that you're proud of in the last year?
Expanding my brand La Detresse.
What is something you have found a new appreciation for?
Time with my family and friends and hugs.
*

Alana wears the

 

MANAUS ONE PIECE

 

in Multi Bandana Print*
Who inspires you at the moment?
My boyfriend is really inspiring me, he's a chef and created his own vegan cookie dough business during quarantine and I love seeing his drive. 
If you could only swim in one spot for the rest of your life where would it be?
Byron Bay, truly my favourite water.
*

Alana wears the

 

ABBIE TOP

 

&

 

PERU BOTTOM

 

in Multi Bandana Print*
Name your top 3 go-to cocktails?
Tequila and soda with lots of lime, Paloma, tangerine juice and tequila with lime.
How would you describe your profession? and what advice would you give someone starting a career in this industry?
Clothing designer and female founder - make a plan, find a great partner (I couldn't do it with out my partner Emily) don't over think it, just start making the things in your head and be authentic. 
*
Alana wears the

 

ABBIE TOP

 

&

 

PERU BOTTOM

 

in Multi Bandana Print*